Electrical Installation Examples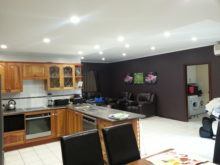 Below is a selection of images of compliant electrical installations across the range of work C&C Electrical Solutions performs. As there are literally dozens of images to choose from, only a small selection has been uploaded.
Our range of installations include:
LED lighting
HD CCTV Surveillance Systems
General Power Outlets [GPO's]
External Flood Lighting
New Wiring Installations
Rewiring
Sensor Lights
Smoke Alarms
Safety Switches [Residual Current Devices]
Exhaust Fans And Ceiling Fans
Click on any of the images below to view a sample of our installations including a few before and after shots which highlights the brilliance of new LED lighting in two hallways. Contact me today if you would like to know more about the latest in LED lighting.​
Stay Connected With C&C Electrical Solutions